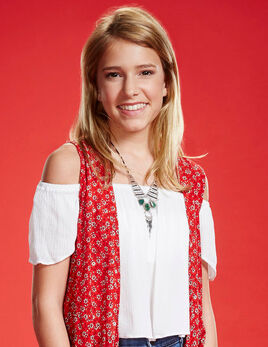 Caroline Burns was a contestant on Season 10 of The Voice. She is from Hollis, New Hampshire.
Biography
Edit
After 16-year-old Caroline had a no-chair-turn audition in Season 9, Pharrell Williams and the audience pleaded for her to come back.
In the meantime, she spent her time performing with her band, 4:30 to 5, practicing with her guitar-playing father and occasionally dressing up as a princess for children's parties.
Caroline is ready and determined to prove she has what it takes to win Season 10.
Ad blocker interference detected!
Wikia is a free-to-use site that makes money from advertising. We have a modified experience for viewers using ad blockers

Wikia is not accessible if you've made further modifications. Remove the custom ad blocker rule(s) and the page will load as expected.