Jake Worthington
Edit
Biography
Edit
From NBC: "Jake is a true country kid who loves fishing, mudding and four-wheeling in his free time. He broke his back playing football and had to take it easy for a few months, which allowed him to discover his true passion -- music. After not making it on a team in season 5, Jake is back to prove he has what it takes."
Jake Worthington is a member of Blakes Team on The Voice season 6. 
Place of Birth
Edit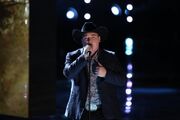 La Porte, TX
Male 
Fun Facts
Edit
In his blind audition for The Voice, he sang "Don't Close Your Eyes" by Keith Whitley and joins Blakes Team. 
At battle rounds he performed "It Goes Like This" by Thomas Rhett and advances to the next round. 
During the second part of battle rounds he performed "Have a Little Faith in Me" by John Hiatt and advances to the playoffs. 
In the playoffs, he sang "Anywhere with You" by Jake Owen and makes it to the Top 12. 
At the top 12, he sang "Anymore" by Travis Tritt and makes it to the Top 10. 
For her Top 10 performance, he sang "Run" by George Strait and makes it to the Quarterfinals. 
At the Quarterfinals he sang "Hillbilly Deluxe" by Brooks and Dunn and advances to the Semifinals. 
During the Semifinals he sang "Good Ol' Boys" by Waylon Jennings and advances to the Finals. 
Filmography
Edit
The Voice, Season 6   
Ad blocker interference detected!
Wikia is a free-to-use site that makes money from advertising. We have a modified experience for viewers using ad blockers

Wikia is not accessible if you've made further modifications. Remove the custom ad blocker rule(s) and the page will load as expected.