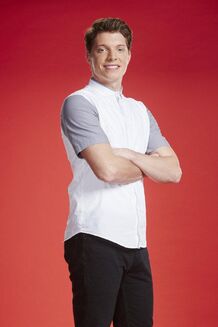 Daniel Passino (born January 30, 1995) was a contestant on Season 10 of The Voice. He is from New Boston, Michigan.
Biography
Edit
Daniel moved to Ann Arbor, Michigan in 2012 to attend the University of Michigan for Vocal Performance and Communications.
At the University of Michigan, he joined The University of Michigan Men's Glee Club and their subset acapella group, The Friars.
The Voice
Edit
On March 8, 2016, Daniel auditioned for Season 10 and turned the chairs of Christina Aguilera and Blake Shelton. He chose Christina Aguilera as his coach.
On March 21, 2016, (Episode 8), he won his battle against Kristen Marie.
On March 28, 2016 (Episode 10), he lost in the knockout rounds against Alisan Porter. On April 12 (Episode 15), he advanced to the live playoffs as a coach comeback on Team Pharrell.
Daniel made it to the Top 10, but was eliminated on May 3, 2016.
Round
Date
Song
Original Artist
Order
Notes
Blind Audition
Tuesday, March 8
"Marvin Gaye"
Charlie Puth
4.5
Christina and Blake turned
Joined Team Christina
Battle Rounds
Monday, March 21
"Turning Tables" (vs. Kristen Marie)
Adele
8.3
Saved By Coach
Knockout Round
Monday, March 28
"Ain't Too Proud to Beg" (vs. Alisan Porter)
The Temptations
10.5
Defeated, but was chosen as the Coach Comeback Artist for Team Pharrell
Live Playoffs
Monday, April 11
"When I Was Your Man"
Bruno Mars
15.1
Saved by Public Vote
Top 12
Monday, April 18
"Human Nature"
Michael Jackson
17.3
Top 11
Monday, April 25
"Time After Time"
Cyndi Lauper
19.2
Bottom 2. Saved by Instant Save (via Twitter)
Tuesday, April 26
"Jealous"
Nick Jonas
20.1
Top 10
Monday, May 2
"I Don't Want to Miss a Thing"
Aerosmith
21.1
Eliminated
Tuesday, May 3
"Uptown Funk"
Mark Ronson / Bruno Mars
22.2
Singles from "The Voice"
Edit
Ad blocker interference detected!
Wikia is a free-to-use site that makes money from advertising. We have a modified experience for viewers using ad blockers

Wikia is not accessible if you've made further modifications. Remove the custom ad blocker rule(s) and the page will load as expected.