Gwen Stefani

Birth name:
Gwen Renee Stefani
Sex:
Female
Birthday:
October 3, 1969 (age 46)
Birth place:
Fullerton, California
Genres:
pop, dance-pop, new wave, R&B, hip-hop
Occupation:
Musician, songwriter, recording artist
Instruments:
Vocals
Labels:
Interscope
Highest Ranking Artist:
Jeffery Austin (4th place)
Seasons:
7, 9
Gwen Renee Stefani (born October 3, 1969) is an American singer-songwriter, actress, and fashion designer who first gained notice as the lead singer of the alternative rock band No Doubt and also has had success as a solo artist. She was a coach on The Voice in Seasons 7 and 9.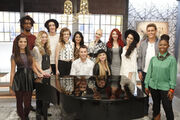 Both Team Gwens were mainly alternative artists, as she looked for artists that already had a cemented identity.
Highest-Ranking Artists
Edit
Ad blocker interference detected!
Wikia is a free-to-use site that makes money from advertising. We have a modified experience for viewers using ad blockers

Wikia is not accessible if you've made further modifications. Remove the custom ad blocker rule(s) and the page will load as expected.