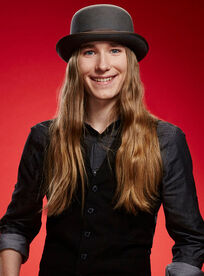 Sawyer Fredericks

Full Name

Sawyer Christopher Fredericks

Genre

Folk

instruments

Guitar, Piano, Vocals

location

Fultonville, New York

associated acts

Pharrell Williams, Noelle Bybee, Joshua Davis
Sawyer Christopher Fredericks (born March 31, 1999) is an American singer songwriter who won season 8 of The Voice. His coach was Pharrell Williams. He is the youngest winner in the show's history.
PerformancesEdit
At the blind audition, Adam Levine, Pharrell Williams, and Christina Aguilera turned 10 seconds. Blake Shelton turned 40 seconds later on.
Round
Air Date
Viewers
Song
Original Artist
Result
Blind Audition
February 23, 2015
4.23
"I'm A Man Of Constant Sorrow"
Dick Burnett
all four chairs turned, he joined Pharrell
Battle Rounds
March 17, 2015
4.40
"Have You Ever Seen The Rain?" (vs. Noelle Bybee)
Creedence Clearwater Revival
Saved By Coach
Knockout Rounds
March 23, 2015
1.53
"Collide" (vs. Mia Z. and Paul Pfau)
Howie Day
Live Playoffs
April 6, 2015
4.21
"Trouble"
Safe
Top 12
April 13, 2015
4.67
"Imagine"
John Lennon
Top 10
April 20, 2015
3.21
"Iris"
Goo Goo Dolls
Top 8
April 27, 2015
5.26
"Simple Man"
Lynyrd Skynyrd
Top 6 Quarterfinals
May 4, 2015
3.32
"Shine On"
Needtobreathe
6.21
"Take Me To The River"
Al Green
Top 5 Semifinals
May 11, 2015
4.32
"For What It's Worth"
Buffalo Springfield
5.12
"A Thousand Years"
Christina Perri
Finals
May 18, 2015
4.61
"Old Man"
Neil Young
Winner
5.25
"Summer Breeze"(with Pharrell Williams)
Seals and Crofts
4.13
"Please"
Sawyer Fredericks
Non Competition Performances
Edit
| Performer | Song |
| --- | --- |
| Koryn Hawthorne, Sawyer Fredericks, Lowell Oakley, Caitlin Caporale, and Mia Z. | "Say Something" |
| Top 10 | "Rocket Man / Saturday Night's Alright For Fighting" |
| Pharrell Williams, Koryn Hawthorne, and Sawyer Fredericks | "I Don't Want To Be" |
| Corey Kent White, Joshua Davis, and Sawyer Fredericks | "Hey Brother" |
| Joshua Davis and Sawyer Fredericks | "Drift Away" |
| Top 20 | "Carry On / Some Nights" |
| John Fogerty and Sawyer Fredericks | "Born On The Bayou / Bad Moon Rising" |
| Sawyer Fredericks, Brooke Adee, Mia Z., and Lowell Oakley | "Lie To Me" |
Music Video of Please
Edit
The music video premieres on May 22, 2015. Sawyer meets 2 girls on the luxury hotel. then he was out still the door. the girl opens while he gets in, and then both riding bicycles.
Ad blocker interference detected!
Wikia is a free-to-use site that makes money from advertising. We have a modified experience for viewers using ad blockers

Wikia is not accessible if you've made further modifications. Remove the custom ad blocker rule(s) and the page will load as expected.