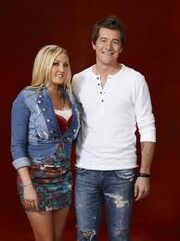 The LiNE was a duet group on Season 2 of the American version of the show, "The Voice." For their audition performance they sang the song, "American Girl." All four coaches turned around. After about 30 seconds of trying to make up their mind, they chose to go with Christina. In the Battle rounds, they versed Moses. They sang, " Satisfaction (Can't get no)." Christina chose Moses, and they were elimenated.
Ad blocker interference detected!
Wikia is a free-to-use site that makes money from advertising. We have a modified experience for viewers using ad blockers

Wikia is not accessible if you've made further modifications. Remove the custom ad blocker rule(s) and the page will load as expected.